Slide One - copy - copy
Slide One - copy - copy - copy
SAFETY FIRST - ALWAYS!
The oil industry is growing by leaps and bounds. As this growth continues, so does the demand for well-trained, competent, eager workers. Kinosoo Trucking, Ltd., has the equipment and drivers to meet this demand.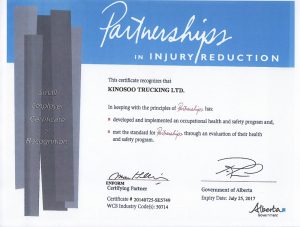 One of the things that make us unique is our belief in keeping our workers safe. No job takes priority over the safety of our team members. We accept no unsafe behavior from any person for any reason. Management has been instructed that the safety of those working for us is paramount and takes precedence over any financial gain. There is no question that every person employed by Kinosoo Trucking will act in a manner that promotes safety first.
Our goal is for a zero incident safety record. To that end, we have implemented a 24-hour dispatch and a full time field supervisor. We have available to us the services of a certified mechanic who conducts inspections as a pre-employment requirement. Inspections are also conducted at regular intervals to ensure the equipment we hire falls well within the maintenance and inspection regulations set up by Transportation Alberta.
Prior to hiring any employee, contractor, or contractor employee, they are screened though our strict pre-employment evaluation process. They are then tested to determine their level of competency and understanding.
We know that an effective health and safety management system can help to prevent losses, reduce costs, and provide necessary evidence that we are taking safety seriously. Therefore, we've implemented the use of SafetySync, an online system that distributes and records safety information within the organization. Workers are trained in safety via this system and assessed via work site observation.